Helps Build Language Skills & Self-Confidence
Chinese Bridge Language School is introducing a new Speech & Drama programme for young children that is more than just learning to act, speak and express themselves better. It is a creative and holistic programme to help children discover their strengths by immersing them in drama activities structured with other relevant language skills learning components.
This new Creative Chinese Speech and Drama is designed to help children from Nursery 2 to Kindergarten 2 to:
Develop a strong interest in Chinese Language through engaging language games, animated story-telling and more.
Immerse in drama education aligned to established practices in UK drama schools.
Enjoy classroom lessons that are supplemented by fun and interesting activities, such as . Let's Talk! Conversations, Play-Time Creative Games, Guess-That-World Recognition Quizzes, Camera, Action! Acting and Story Come-Alive Reading.
Learning outcomes include acquiring greater self-confidence, linguistic ability, social-emotional skills, drama techniques, and greater appreciation of Chinese language, culture and arts.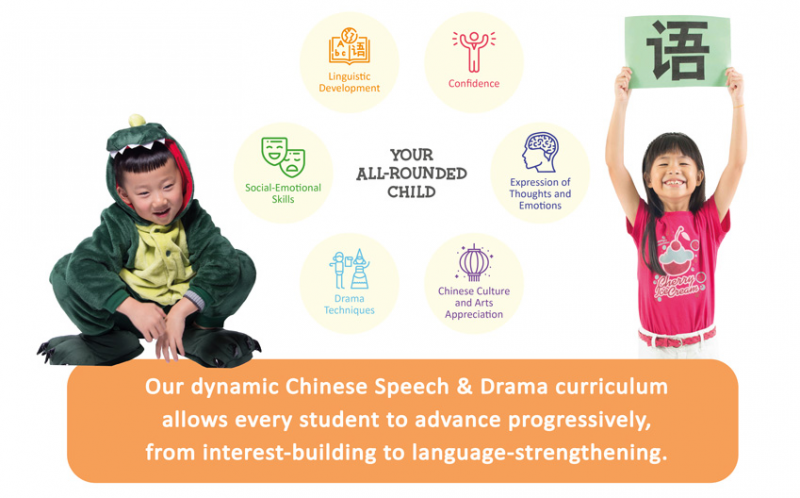 The programme will be conducted by Mr Sun Xiao Peng, who is professionally qualified and trained in the delivery of our Creative Chinese Speech and Drama programme. He has an Honours Degree in Theatre from the University of Essex, United Kingdom and a  Diploma in Theatre from Nanyang Academy of Fine Arts (NAFA).
Mr Sun has a total of 8 years of relevant experience, including acting and teaching at the Singapore Broadway Playhouse. He had also been a Drama and Chinese Teacher at Julia Gabriel, where he was involved in the development of syllabus and teaching materials, directed stage dramas and trained new teachers and in pedagogic matters. He had also previously taught at a Chinese language and culture centre.